Car Control Clinic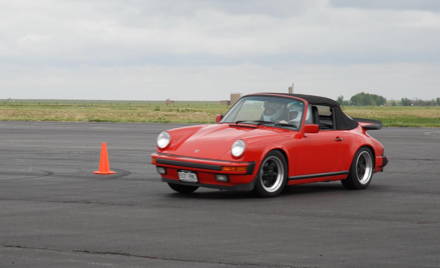 PCA - Rocky Mountain Region
Saturday, July 9, 2022
Colorado Air and Space Port
,
Watkins

,

CO
Rocky Mountain Region PCA 2022 Car Control Clinic
We sadly have made the decision to cancel the Car Control Clinic. Registration has been extremely light. With only 11 days until the classroom portion and 2 weeks to the driving portion registration count is less than half of what would be necessary to break-even financially on this event. I know that this is disappointing for those who had registered and hope that you will consider one of the many other RMR PCA events this summer. - Doug
Do you...
Think you're a safe driver?
Know what to do when some idiot does something stupid in front of you?
Can you…
Fully and effectively use your ABS brakes?
React properly to control a slide or spin (ex. winter driving)?
Perhaps not to the degree you could or should!
This event is for those of you who love driving your Porsche, who don't want to attend an autocross or DE, yet realize that you could benefit from expanding your car control and accident-avoidance skills! No prior experience or safety gear is needed. You only need a valid driver's license and a car to drive. A Porsche is not required – though certainly more fun! In a super-safe and controlled environment, we will give you the opportunity to experience and learn skills in
Emergency Braking
Turning while Braking (hard)
Emergency Lane Changes
Feeling and gaining confidence in the sensation of weight transfer during rapid car movement
Recognizing and handling sliding – understeer, the front wheels won't turn the car
Recognizing and handling spinning – oversteer, the rear wheels step out or come around
The event will consist of a little bit of online classroom training (via Zoom) and a lot of driving exercise time using your own car on the vast open space (1200 x 400') of the Colorado Air and Space Port aircraft tie-down lot (previously known as Front Range Airport). We are also offering the opportunity to attend the Zoom classroom session without the driving exercises.
Safety is paramount and we have designed the exercises to support this goal. Speeds will be very moderate, no more than about 40MPH, and soft orange traffic cones will be used to mark the boundaries of each exercise. There will be minimal wear & tear on your car – some additional tire wear is all you should expect. Club instructors will guide you through each learning exercise, which you will be able to repeat over-and-over, to gain new skills and confidence behind the wheel.
At the completion of this course, you will find yourself driving with greater confidence and awareness.
Properly adjusting your mirrors and seat for improved visibility and control
Using "high eyes" to alert you to hazards far ahead, giving you time to react and avoid
Understand the concept of having an escape route, and ability to get there
Ability to use your car's controls (steering, brakes, throttle) to maintain control in an emergency
As a bonus, we'll explode an airbag, letting you experience the violence and observe the aftermath. You'll never let a passenger put their feet up on the dash or invert your hands on the steering wheel again!
Water bottles will be provided, but you must bring your own lunch as there is no place close to buy a lunch. Wear comfortable shoes. Bring a hat & sunscreen and appropriate outerwear for the days weather. This event will be held rain or shine. No helmets or other safety gear is required.
A Porsche is not required. Only SUV's with a Porsche, Audi, Volkswagen or BMW badges are permitted and no pickups. Convertibles are just fine and you can run them with the top down. Contact the event chair if you have questions about the suitability of your car. This event can support two drivers sharing a single car, but not more than 2. Please indicate your co-driver's name on the second registration so that we can schedule your participation accordingly.
If you have any questions, please contact Doug Bartlett at doug@dbartletts.net or 970.214.2729.