Porsches on the Plains HPDE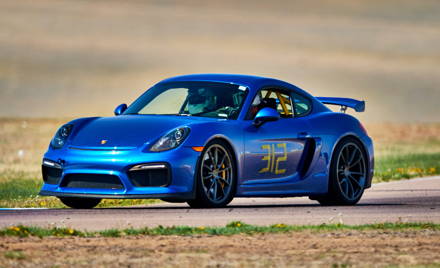 PCA - Rocky Mountain Region
Saturday, Jul 23 — Sunday, Jul 24, 2022
High Plains Raceway
,
Deer Trail

,

CO
Registration closed July 18, 2022 11:59 PM at 2022-07-18T22:59:00-0700 Registration ends July 18, 2022 11:59 PM at 2022-07-18T22:59:00-0700 Registration opens June 23, 2022 9:11 AM at 2022-06-23T08:11:00-0700 Registration runs from June 23, 2022 9:11 AM to July 18, 2022 11:59 PM
Porsches on the Plains HPDE
RMR/PCA High Performance Driver Education Event at High Plains Raceway
Saturday and Sunday, July 23-24, 2022
Join us for RMR's third HPDE event of the year! There is much more than just beautiful rolling hills on Colorado plains. There are Porsches on the Plains! An excellent team of instructors and volunteers will help you enjoy your Porsche on the best track Colorado has to offer, High Plains Raceway. Register early to avoid missing out on all the fun.
Lunchtime charity rides will be held for $20 per vehicle - Any roadworthy vehicle can drive the track at touring/highway speeds. All proceeds benefit our charity for the event.
Lunches for volunteers and instructors will be provided.
Saturday Dinner $20 per person, menu To Be Determined.
The CDI team will lead a "Walk the Track" session on Saturday evening after the track goes cold. Walk the Track (WTT) will focus on turn 4s and down To Hell on a Bobsled. Track Manager Glenn Conser is allowing the CDIs and Driver Development Team to take a few laps on the North Course at the end of Saturday's last track session and they will share what they've learned. As a special treat, Glenn has considerable experience driving the North Course and he will be sharing his driving tips during WTT.
Special Treat Sunday - Instead of the normal full track configuration, we will be running the North Course Configuration. We only do this once a year. Don't miss it!
There will be beer-30 on both Saturday and Sunday. The HPR Café may not be able to provide hot food during this event. They will only be selling drinks (sodas and coffee) and snacks. We will keep you informed if this situation changes. The club will still provide water and – of course – drinks for beer:30.
We are excited to support our charity for this event: Children's Diabetes Foundation. You can donate as much as you would like during registration.
As of this time there are no COVID-19 related restrictions in place that will impact this event. That may change, we will update you if it does.
This Event will be using Deferred Billing, if you are paying with a credit card it will not be charged until Wednesday, July 20, 2022.
Dates: Gates open at 3:30 PM Thursday afternoon before the event and remain open 24hrs/day until after the event ends on Sunday. HPR offers open lapping Thursday evening and all day Friday. You can register for either or both on MotorsportReg.com
Check-in: 7:00 AM to 8:00 AM Saturday and Sunday Please check-in before the mandatory 8:00 AM drivers' meeting.
Drivers' meeting: Starts at 8:00 AM (each day) in the Pavilion. Green run group drivers' meeting following the all drivers' meeting, (each day) in the Classroom.
Location: High Plains Raceway, 17 miles east of Byers on US-36 (Deer Trail)
Costs:
Either day: Each Driver: $220
Both days: Each Driver: $350
Event Chair: Tom LaRitz (tlaritz@earthlink.net)
Chief Driving Instructors: Lead CDI - Brian Leary (beleary36@yahoo.com), Brians co-CDI's: Dan Carlson (DHCarlson5031@gmail.com) and Dave Stribling (davestribling@prestigeimports.net). They can answer any questions about registration confirmation, cars, run group assignments, instructor assignments, etc.
Registrar: Tim Berg (tberggt3@gmail.com)