RMR Gold Belt Driving Tour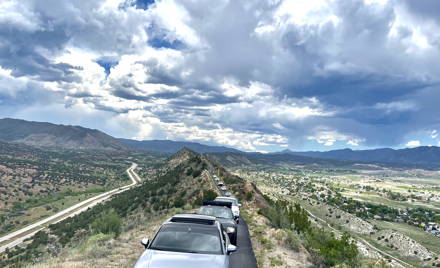 PCA - Rocky Mountain Region
Saturday, September 23, 2023
Colorado Springs Area
,
Colorado Springs

,

AMR/RMR
Registration closed September 7, 2023 6:00 PM at 2023-09-07T17:00:00-0700 Registration ends September 7, 2023 6:00 PM at 2023-09-07T17:00:00-0700 Registration opens August 31, 2023 6:00 PM at 2023-08-31T17:00:00-0700 Registration runs from August 31, 2023 6:00 PM to September 7, 2023 6:00 PM
RMR Gold Belt Driving Tour
Saturday, September 23, 2023
$10/vehicle
The main attraction of this tour will be the Gold Belt scenic byway in Fremont, Park and Teller counties in Colorado.
Skyline Drive
Before we get to the Gold Belt scenic byway, we will be driving the Skyline Drive in Cañon City. Skyline Drive is a narrow 2.6 mile fully paved scenic road that follows the top of a razorback ridge overlooking Cañon City, Colorado.
The history of Skyline Drive is just as intriguing as its steep uphill and downhills. Built using labor from 60 inmates at the nearby prison, the road was finished in 1905. In 1907 automobiles were allowed on its roads. Skyline Drive is a road you will want to experience.
https://www.uncovercolorado.com/scenic-drives/skyline-drive/
Gold Belt scenic byway
The Gold Belt Tour is a Colorado Scenic and Historic Byway and a National Scenic Byway. Drive the Gold Belt Tour and retrace the historic travel routes connecting Cripple Creek and Victor Mining District, site of the world's largest gold rush, to the communities of Florence, Cañon City and Florissant.
Today, the communities of the Gold Belt Tour invite you to experience the rich local heritage as you follow the "Roads to Riches." The Gold Belt Tour is located in southern Colorado, just one hour from Colorado Springs or Pueblo and two hours from Denver.
We Will end our tour at Cripple Creek. At an elevation of 9,396 feet, Cripple Creek was the center of politics, finance, and entertainment for the Mining District. Cripple Creek boasted two opera houses, 75 saloons, eight newspapers and a stock exchange by the late 1900s. Today, limited stakes gaming has revitalized Cripple Creek's economy.
Some things you may want to enjoy at our destination, Cripple Creek. You can experience a taste of the past by descending into the Mollie Kathleen Mine, visiting the Homestead Parlor House or riding the Cripple Creek & Victor Narrow Gauge Railroad. Enjoy casinos, shops and restaurants, as well as a melodrama in the historic Butte Opera House. We end our driving tour at the Cripple Creek Heritage Center where you can explore the history of the area.
Schedule:
Date: Saturday, September 23rd 2023
Starting location: Porsche Colorado Springs, 917 Motor City Dr, Colorado Springs, CO 80905.
Volunteer Arrival Time for set up: 7:50am
Participant Arrival Time: 8:15am
Colorado Shiba Inu charity talk: 8:35am
Driver's Meeting: 8:45am
Departure Time: Sept. 23rd 9am – 9:30am We will space out the run groups 10 minutes apart
Lastly, our charity for this tour will be the Colorado Shiba Inu Rescue. This is the same charity that we used for our multi-day off-road tour. Here is the same copy/text from that event "We are collecting money for the Colorado Shiba Inu rescue. They rescue and find homes for the Shiba Inu dog breed. For more information visit the website https://coloradoshibainurescue.org and please donate generously."
Thanks
Tour Chairs: Shaun Seela shaun@ssmail.us, Vicki Cox Jones vickijns@gmail.com